Resilience - Miss Thwaite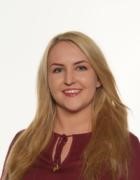 Welcome to Resilience's class page!
About the Teacher
As a student teacher, I had two placements at Bradshaw and enjoyed them so much that I applied for a position after qualifying - I am now in my fourth year of teaching at Bradshaw. As well as teaching year 6, I co-ordinate PE for the whole school and love seeing the children participate in competitions. My favourite thing about teaching is watching the children in my class grow and progress throughout the year.
Our Routine
We have a class of 22 children; 12 boys and 10 girls. Every morning we arrive at school at 08:45am and complete our morning activities including reading, book tests and responding to marking in our books. Mornings consist of Guided Reading, Maths, English and Grammar with a 15 minute break at 10:15am. Lunch is 45 minutes and starts at 12:30. In the afternoon we have a variety of lessons including Art, Science, Geography, History, ICT, PE, RE, Music, French and DT.
PE day in on Friday, so we need to make sure we remember to wear our kit on that day.
Homework is set on a Thursday and is to be returned the following Thursday. We should also spend time reading and using TT Rockstars and Spellodrome at home.
Email: emily.thwaite@bradshaw.calderdale.sch.uk